Welcome
Log in to access your account
Renew your license
Download Updates
View/Print Order History
Edit contact info
Use Help Center features
Don't have a Login ID yet? – Use the Find Me form to locate your account and create your Login ID.
New Computer?
Be sure it meets SC system recommendations!


Remote Support
Need your support tech to view your screen? – We're excited to introduce Remote Support! Enter the access code provided by your Support Technician and you'll be connected instantly!
Knowledge Base
Find answers now! – Explore our extensive library of articles. Browse by product or category. Search specific keywords within article titles and contents.
Training Videos
Get the most out of StenoCAT software!! Our extensive library of training videos covers all areas of the software, from Installation to Advanced Index Formatting. Watch at your convenience, any time, as many times as you like.
User Training
New Users
Irvine, CA
Learn to use advanced software features from the experts. As a new user, you get specialized training in our corporate office for FREE.
Attendance Certificates
Available for NCRA CEU Credits
Training Dates 2020
Jan 23
Feb 20
Mar 19
Apr 16
May 21
June 18
July 16
Aug 20
Sep 17
Oct 15
Nov 12
Dec 10
Class Time 9:00 AM – 3:00 PM (PST)
---
Pre-registration is required. Contact Sales.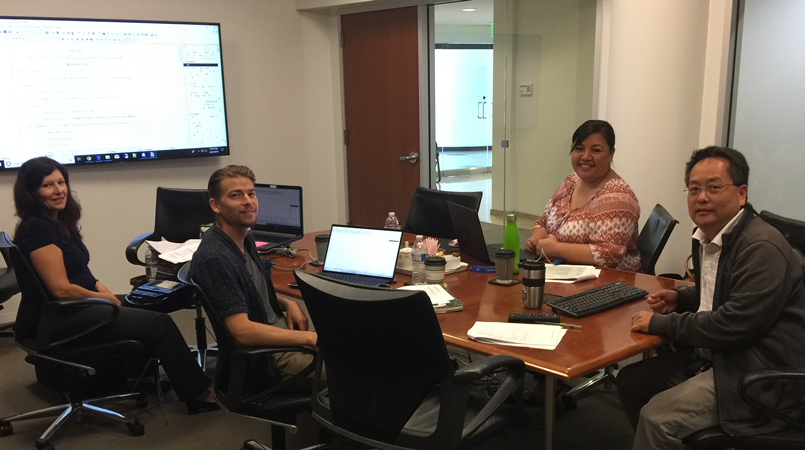 In-House User Training — August 2019, Irvine CA
Pack the School - Career Event December 7, 2019
Registration Required - Admission is FREE!
South Coast College
2011 W. Chapman Ave.
Orange, CA
Saturday, December 7, 2019
8:00 am - 1:00 pm
PST
StenoCAT Vendor Booth Viki McCrary
& Michael Gilbert
Please visit the SCC website for more information.
---
Students, please stop by our booth
for a chance to win a door prize!
Live Webinars
Watch as we demonstrate how to get the most out of the latest StenoCAT version. Learn useful tips & tricks to become more proficient with the StenoCAT software.
Live Webinars are FREE for licensed StenoCAT32 Users. Topics are repeated periodically, and you are welcome to attend as many times as you like.