Perfect for steno editing and proofreading

(does not include writer connectivity)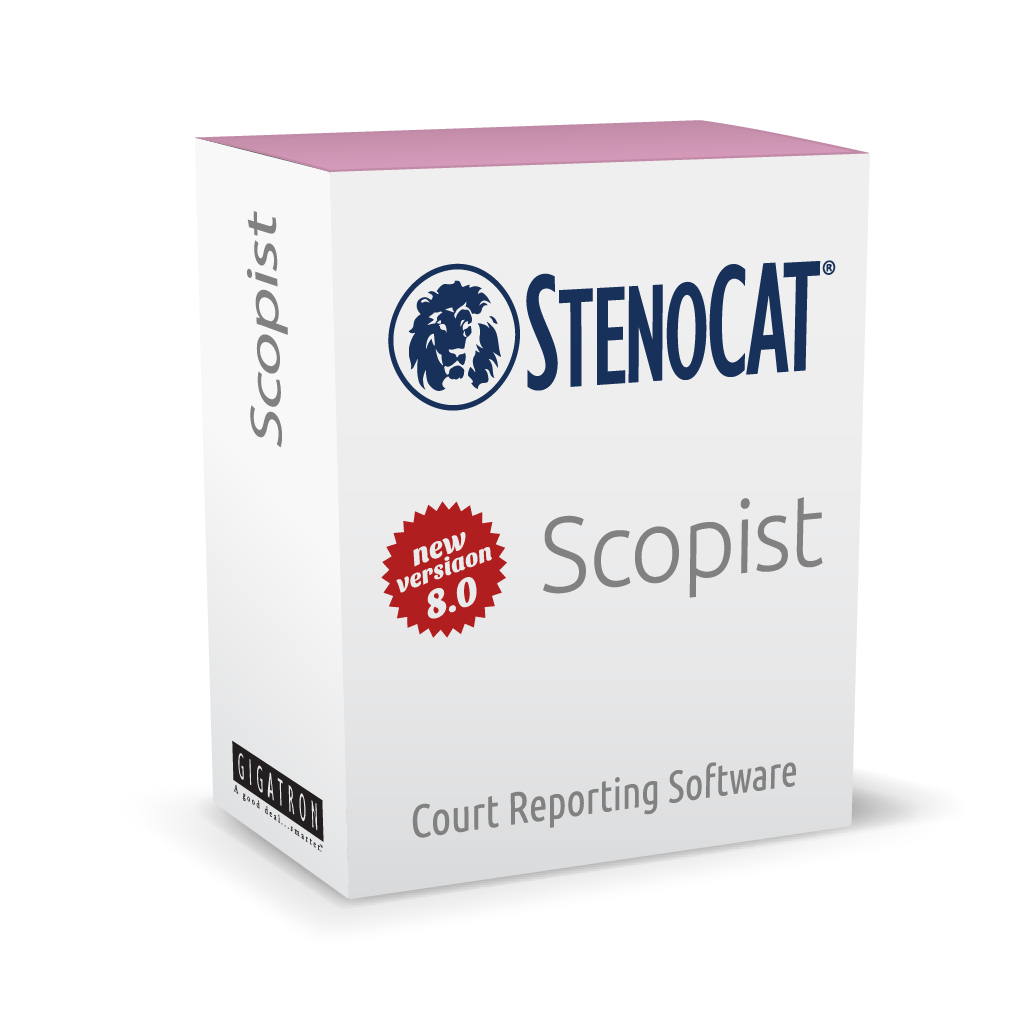 Do you know steno? You may be able to earn money with this unique skill! Scoping students or reporting students can put their steno knowledge to work by offering court reporters efficient editing turnaround.
Are you an expert scopist doing expedites? Our software offers the most efficient editing features to quickly correct untranslates and punctuation mistakes in the transcript.
Spend less time while making more money! Using our industry-favored, intuitive SmartKeys™ helps you become an efficient editor and turn jobs around faster.
Our InSync auto scroll feature will allow for even faster editing by having the cursor automatically follow the audio during playback. InSync conveniently offers a Scopist playback in both mp3 and WAV audio file formats. This means the Scopist can work for a wide range of Reporters on various software versions of the last 10 to 20 years.
Coming from another CAT system? No worries! Our mission is to make it easy for you! Scopists using StenoCAT report that our product is easier to learn than any software they had used in the past.
Scopist version does not permit realtime or translation. Scopist version is not designed to originate transcripts.
Editing transcripts is by far quickest on the StenoCAT program, and I've tried them all.
Subscription
Scopist - 1 Year
$429/yr
Startup Fee
$249
$678
Software Features
Smart KeysTM
Intuitive and superbly efficient. Edit transcripts with fewer keystrokes. Record macros to customize your keys, or use a predefined key set.
InSync® Audio
Edit transcripts faster and more accurately. Automatically scroll playback cursor with the transcript. Allows for listening of both WAV and mp3 audio formats. Insert File function includes InSync Audio and allows reporter to split and merge audio files. Synchronize Audio function fixes mis-aligned text and audio.
Compatibility
StenoCAT is designed for Windows. Allows for editing of jobs from reporters on various StenoCAT versions, old and new. Also works with RTF jobs imported from other CAT programs. Windows 7 OS is not supported.
Internet Search
Save time, save keystrokes, search faster. Perform an Internet search directly from within the StenoCAT Editor.
Larger Fonts
Give your eyes a rest with larger fonts in frequently used dialogs. Write and edit more comfortably using custom text zoom ratios.
Seating ChartTM
The name and location of speakers are tracked easily and efficiently with electronic name tags inserted by the Reporter. Use the seating chart to check accuracy.
Address Book
The contact info set up by the Reporter in the StenoCAT address book can be used to verify transcript entries.
System Recommendations
You're a professional having to compete and excel in a high-pressure work environment. Do yourself a favor and get a good computer system to have the best foundation. Practice good computer hygiene by keeping your computer up to date with the latest Microsoft® Windows software updates. To have a good experience, we recommend having at least the following system setup:
Windows Operating System
Windows 10 or 11. Even if you have the latest Windows Operating System by Microsoft® , be sure to keep it updated with the latest patches. It's the best protection you can buy against viruses, hacks, and other undesirables, and keeping current also supports use of our latest features. If you are using an OS that Microsoft no longer supports, we won't be able to support it either. Virtualized Windows are not supported on StenoCAT Versions 8 and above.
Processor
The better rated processors are Intel® Core i3, i5, i7, or the AMD™ equivalent.
Storage
At least 128 GB on your workstation. A computer with an SSD (solid state drive) is highly recommended but not required. Add an external hard drive for backups. Look into cloud storage solutions as well if you need mobility.
Memory / RAM
The absolute minimum is 8 GB.
USB Ports
Although no ports are required, we recommend having a port for easy file transfer if needed. The Scopist software works with keyless activation.
Internet Access
A high-speed internet connection is required to activate and re-confirm your keyless software license, update your accounts, and send/receive audio files. Use only modern-day browsers such as Chrome, Firefox, Safari, Edge or IE 11 or higher. Stop using the old web browsers – they have weak security. If you do banking or shop online, use only bank approved browsers. This is important protection for your personal data and for any data subject to HIPAA.
Audio Playback
You have many choices in selecting a windows media player, or you can use the default one that comes installed on your computer.
Optional Extras
USB flash drives, for temporary storage or transferring of files.
USB hub, converts one USB port into multiple USB ports.
External hard drives, for data backup.
Cloud storage solutions to exchange files with your reporters.
FAQ
expand all
How are my software & license kept secure?
Virtual Key Activation
Our secure server will issue your computer(s) a unique Virtual Key software ID to help us protect against the distribution or unauthorized use of software by any party other than the licensed registered user. Your software will work only when our server recognizes your computer as registered and your license as valid.
How much is the StenoCAT Scopist Version?
Subscription – Our unique subscription plan option offers you the Scopist software, unlimited technical support, software updates, and online webinars for the subscription term. There is a one-time nonrefundable startup fee to start a new subscription. From that point on, you pay only the subscription rate (unless you let your subscription lapse). A subscription gives you the most flexibility for keeping your software and skills up to date with the latest software features.
For $429 annually, a Scopist subscription includes a single-user license to the Scopist version for a twelve month term. If you are a new user, this will include startup training and a secured virtual key. No long term contract is required.
After the first year, you may renew your subscription at the various intervals offered during your online renewal. When your license subscription expires, your rights to use the software are also expired. A lapse fee may be required to reinstate a recently expired license.
Please visit our store to view any advertised special offers available to new Scopists.
How do I renew my subscription?
Please use our Auto Pay feature to ensure continuous renewal without interruption. For the highest level of security, we use PayPal for storing your recrurring transaction information. Rest assured you can easily cancel your auto pay instructions with a simple login transaction. We don't hold you up in endless automated voicemail routines or mazes to try to trick you into anything!!! Please review our Terms and Conditions to read more about this service.
If you decline automatic renewal, you may renew at any time by visiting the My Account page on our website. Click Renew next to your license and the store renewal page will present the various renewal interval options available to you. The new expiration date is calculated by adding the renewal term to the original expiration date. For instance, if you renew for one year, a total of 365 days will be added to your expiration date.
You may also renew by following the prompts through your software!
Lapsed subscriptions are subject to a reinstatement fee. Please contact Sales if you need further assistance. Lapsed licenses will be subject to a new expiration date at the time of reinstatement.
What kind of computer do I need in order to use StenoCAT?
StenoCAT is designed for the Windows environment. Please see our System Recommendations section for detailed information. We support the use of our products on any current Windows operating system which is still supported by Microsoft. Virtualized Windows are not supported.
How do I get support?
You can login to your StenoCAT account on our website (see Help Center) and enter your question and callback information as a "callback request". This ticket is automatically linked to your license and immediately placed in the support callback queue. It is by far the fastest way to ensure you are next in line for a callback.
You can also call the toll-free support line 800-999-9199. Our support team answers calls live from 7 a.m. to 6 p.m. Pacific Standard Time between Monday and Friday. If a member is not available to take your call live, then you will have the opportunity to leave a voicemail. Please leave your license number, full name as registered on your license, a callback number, and a brief summary of the reason for your call. Voicemails are answered in the order they are received; however we prefer that you use our electronic callback request for more efficient response.
If you need a question answered over the weekend, we have an active message board where our customers exchange useful information with each other. You may find your answers there on the message board. Every license with an active support contract also has access to a knowledge base to search the answers to the most common questions.
Can I use my writer to practice with the Scopist version?
No. The Scopist version does not include writer connectivity. You need the reporter version to practice. You may easily upgrade to Reporter during your renewal process. Please contact Sales.
Can I copy ASCII into the Scopist version?
No, ASCIIs cannot be copied in. StenoCAT requires native StenoCAT files (.trn) or files from another CAT system (.rtf).