TrialBook Realtime Streaming
The only truly wireless realtime streaming application that works on ANY browser-enabled device.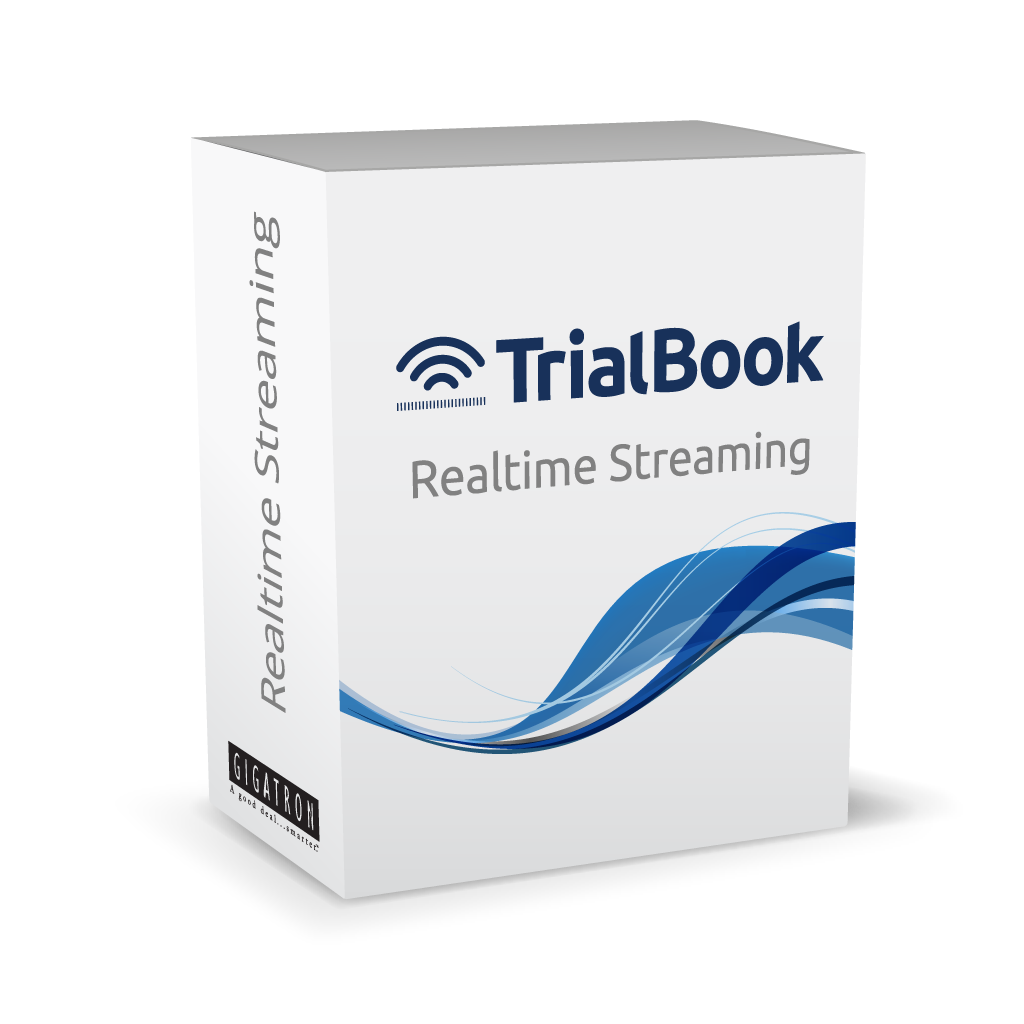 Reporters! Need to impress your attorneys, judges, and remote viewers with accurate, instantly refreshed realtime feed?
This powerful option added to your reporter version allows you to connect an unlimited number of viewers on an unlimited number of browser enabled devices. Forget about cables and complicated setups. Your viewers don't need to load any software on their devices. All you need is a reliable wi-fi network. Start with the basic file streaming (wi-fi) and add internet capability later if you need to stream remotely.
Reporters love this product because they can control the various individual security options for an unlimited number of viewers. TrialBook Streaming allows them to add a customized revenue stream to their standard reporting services.
Viewers love this because they can customize their view, annotate in various colors, highlight key words, save in PDF, and there is no program to maintain.
TrialBook Realtime Streaming is available through subscription only. With a one year subscription, you will enjoy premium access to the most professional and helpful customer care in the industry. Also included are free software updates, toll free support, webinars, user message board, and training.
I am a freelancer and was hired for a trial. The judge asked me if there was a possibility of him getting realtime. I simply started up my TrialBook, set the password, started transmitting, gave him the website, reporter number and password, and within two minutes of his asking me, he was getting the realtime feed. He's annotating, he's searching, he's saving the file, he's having a grand time. I'll admit, I love this program, Since I got it, I don't know that I've used my router once. Nicely done, StenoCAT.
Subcription
$299.50


6 months

— or —
$599


1 Year
Software Features
Instant Refresh
Transcript edits and corrections are sent instantly to viewer screens during realtime output.
Unlimited Devices & Browsers
Stream to iPad, iPhone, Android Phones & Tablets, Windows, Mac, or any browser-enabled device. Supports all modern browsers – Chrome, IE9, Edge, Firefox, Safari, etc.
Unlimited Number of Viewers
Connect as many viewers as you need with no additional setup or fees. Provide the most economical solution to your legal clients.
Internet Streaming (optional)
Reach even more clients in more places. Broadcast your realtime session to unlimited viewers, live over the Internet. No hardware needed; reliable internet connection required.
CART Screen Online!
Share your CART Screen locally or remotely. Stream to any viewer anywhere on iPad, iPhone, Android, Windows PC, Mac, or any other browser-enabled device. Remote streaming requires the internet edition of TrialBook.
Save Sessions to PDF
Offer your viewers the option to save the realtime session, with their annotations, to a PDF file. Reporter can enable/disable this option for each viewer.
Viewer Controls
Customizable text & background colors, word search, color coded annotation, highlight keywords, password security, live time codes, save realtime PDF. Supports Arial viewer font, a non-monospaced typeface, for improved legibility on smaller screen devices.
Wireless Connectivity
No more messy cables, com ports, or adapters. Connect to virtually any WiFi network – router, hot-spot, ad-hoc, etc.
Easy Setup
No client installation necessary. Minimal reporter steps are completed in a few seconds:
Connect to WiFi/Internet
Launch TrialBook
Broadcast to Viewers
Reporter Log
Save viewer session details to a CSV file, including all pertinent information such as name, IP address, browser, and date/time of connection for each streaming session.
Selective Permission Control
Selective permissions can be set for each viewer. Reporter decides who can copy, save, or print.
show more
System Recommendations
Congratulations! If you are streaming, you are a power user! As such, please be sure that your computer meets the system recommendations presented in the StenoCAT Power User Section.
Then, either add a reliable router or go completely hardware free by using a reliable internet connection. With the Basic Edition of TrialBook, a router is the most reliable way to stream your transcripts. If you have subscribed to the Professional (Internet) Edition, just be sure you have a reliable internet connection that will work in the location of the job.
Operating System
Windows 10 or 11. Even if you have the latest Windows Operating System by Microsoft® , be sure to keep it updated with the latest patches. It's the best protection you can buy against viruses, hacks, and other undesirables, and keeping current also supports use of our latest features. If you are using an OS that Microsoft no longer supports, we won't be able to support it either.
Processor
The better processors are Intel® Core i3, i5, i7, or the AMD™ equivalent.
Storage
At least 128 GB on your workstation. A computer with an SSD (solid state drive) is highly recommended for improved performance. Add an external hard drive for backups. Look into cloud storage solutions as well if you need mobility.
Memory / RAM
The recommended minimum is 8 GIG.
Ports
We recommend a minimum of three available ports. One is required for your security key, one for your USB to Serial Adapter (if applicable), and one for an external microphone. If your computer has only one USB port, then you must add an optional USB Hub to supply the additional ports.
Internet Access
E-mail account, and high speed Internet connection (Cable, DSL, etc.).
Optional Extras
USB flash drives for temporary storage or transferring of files.
USB hub converts one USB port into multiple USB ports.
External hard drives for data backup.
FAQ
expand all
What is TrialBook?
TrialBook is a wireless realtime output application that enables you to use your WiFi network, or Internet connection, to output realtime to your clients' browsers-enabled device(s).
Is TrialBook easy to use?
TrialBook is the most user-friendly wireless output app available. Setup for the reporter is simple and minial, and there is no installation necessary for the client. There are no wires or adapters to worry about.
Can I use TrialBook with any other CAT system?
TrialBook currently supports output for a couple of CAT systems. Please check with Sales to see if your CAT system has been updated to work with TrialBook at this time.
I bought a subscription to TrialBook. How do I get started?
Once your sale is complete, a license number is added to your record. TrialBook can be downloaded from www.gsclion.com. Also available to download are additional instructions on how to use TrialBook. Remember your license number to start a realtime feed session.
Does this product require a key, a dongle, or other security device?
No. TrialBook uses keyless security. The license may be used on one computer at a time. To move the TrialBook license to a different computer, the reporter would simply need to use an internet connection to first deactivate the current installation and then activate a new installation on another computer. All of this is done through the TrialBook program and does not require a phone call or support.
How do I install TrialBook on the attorney/judge's computer?
TrialBook does not require additional software to be installed on their computers. Once the reporter is connected to the wireless network, just type the reporter's address in the web browsers on the attorney/judge's computers.
What do I need to connect my clients?
For the Basic Edition (i.e. local streaming) use a wireless router. An Internet connection is required to utilize the Professional Internet Edition.
How can I offer my clients a secure and reliable wireless connection?
The most reliable device to serve clients is a dedicated wireless router that is preconfigured for the reporter's requirements. No internet connection is required for Local Streaming. We recommend a portable lightweight router. For Internet Streaming, we offer a Secure Encrypted Connection (HIPAA compliant) through our dedicated servers with password protection options.
Can I connect to an existing WiFi NETWORK?
Yes. Wireless may be available in your client's office location or courtroom. The risk here is that if the signal is weak, it may drop connection periodically. This is not a failure of the software.
Can I use my laptop to create a local wireless network?
Yes, there are third party programs that will create this network on your computer. However, this requires advanced setup and possible technical troubleshooting. It is also dependent upon the reporter's computer, adding another task that uses more resources on the realtime computer.
I have a mobile hotspot that I have acquired from my local cellular company, will this work?
A mobile hotspot will work but there are a few things that need to be considered. Most mobile hotspots will limit how many concurrent users can be connected at once. When using a mobile hotspot your clients will be allowed to access the internet using your mobile hotspot data plan. This may accrue unwanted data charges to your mobile hot spot. Gigatron does not recommend using your mobile hotspot for TrialBook.
How secure can I be that no one else is "tuning in" to my realtime session?
TrialBook allows the reporter to password protect the IP address so it can be strictly controlled. Also, the reporter can see a display of all clients who are actively connected to the session. At the end of the session the reporter can save all the viewer details for the record.
What do my clients need to connect to me?
There are a variety of different devices your client can use to view your realtime, such as iPhone, iPad, Android Tablets, Android Phones, Windows Phones, Windows Tablets, PC's, and Mac Computers.
Which web browsers are compatible?
All modern web browsers — Chrome, Edge, IE9, Firefox, and Safari — are recommended.
Can it refresh?
Yes, TrialBook all of your edits are intstantly refreshed on the viewer devices.
Can my clients save their viewing session?
Yes, TrialBook allows each viewer to save the RealTime session – with annotations – to a PDF.
How much time do I need to connect my attorneys and judge?
TrialBook can be initialized and tested easily before the deposition or proceeding. If you are on the local version, we recommend using a preconfigured wireless router with the laptop you plan to take to the proceeding. After that, it only takes seconds. If you are on the internet version, you should test the reliability of your internet connection. Your viewers can be seeing your feed in seconds.
Does this product offer true streaming and is it really wireless?
Yes, TrialBook offers true streaming over any wireless network, or the Internet, to a variety of mobile devices and computers.
My viewer's realtime feed stopped working. Now what?
The viewer may click on the RESUME button. Their browsing device will automatically refresh and begin receiving the realtime once again. If this does not work, the viewer may also click the refresh button on their web browser.
Where can I get TrialBook?
Only Gigatron can sell a TrialBook subscription. TrialBook is available to users who have an active Reporter License which is upgraded to the latest version. This can be purchased from our website. First, log in. Then, navigate to The Store (You must Login to your active StenoCAT license prior to starting your purchase).